Our fast-paced, ever-changing, high-tech lifestyle challenges personal interaction. Can you make eye contact through a monitor? Do keyboard characters express sentiment? Will team members from different generations find benefits or barriers?
In one powerful afternoon this summer, I experienced a building, nurturing, and reconnecting of relationships across generations, genders, and other demographics—the very things businesses strive to achieve every day with their customers.
The last weekend of June, the tiny town of Earlville, Illinois celebrated its 150th anniversary, or sesquicentennial. Earlville is not just where I grew up, but where it all began for me. "It" is my entrepreneurial spirit—my respect for small businesses and my appreciation for the impact of relationships on every facet of business.
Earlville is where my grandfather started his business, first on foot, then by carriage, then in his first storefront in 1939. My grandfather's hard work, quality service, and ability to connect with people brought a thriving business to Earlville—and an enterprise that has carried on in my family for generations. (Later, my grandfather turned the business over to my father, who in turn passed it down to my brother.)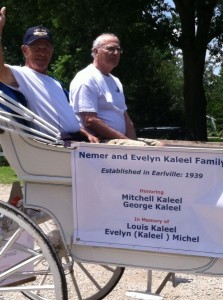 Part of Earlville's sesquicentennial celebration was a parade. My two uncles—the only two living from the original family—rode in a horse and carriage, honoring how the business began so many years ago.
I was proud to be among 40 family members who gathered in matching tee shirts to celebrate our family's legacy and enjoy a reunion after the parade. We came from near and far, representing all living generations. We met and connected with family members we hardly knew.
All afternoon, I watched the interactions and listened to the laughter and conversations. Not once did I see anyone reach for a cell phone, steal away with a computer, or even glance at a watch.
And that's not even the best part.
The most memorable moment came when all of us merged into one building: the former hardware store that had closed along with several other businesses in this once-active community. Earlier this year, this building reopened as the Earlville Museum. And on this Sunday afternoon, the place was alive again. People milled about, taking in their history, hearing stories, recreating memories they once knew. Strangers met. New friends visited with old friends. The occupants of yesterday met those of today. Children talked to adults. Teenagers asked questions of their parents.
And in the corner, a video played. The entire family congregated around a tiny monitor, straining to see and hear. The recording was an interview with my 99-year-old grandfather, Nemer Kaleel. He was discussing our family's business, just six months before his death in 1987. We listened to how he answered the questions. We watched his mannerisms. This was the first time my own children ever heard their great grandfather's voice. And to me that voice carried his vision. He used his voice to share his mission, to connect with people way back when … and even now.
I thought to myself, "This is what companies strive to do—to engage generations, to build relationships, and to connect with people in a way that carries vision and mission into the current moment."
What kind of business are you in? No matter what it is, isn't this precisely what you are after? How do you engage customers in your vision and mission?
http://www.tkfay.com/wp-content/uploads/2013/07/carriage-rural.jpg
276
708
admin
http://www.tkfay.com/wp-content/uploads/2013/04/tkfay_logo_blue_200wide.jpg
admin
2013-07-15 05:00:49
2013-07-10 11:36:42
Connecting past to present